The Brain Wellness and Biofeedback Center is one of the industry leaders for research and successful treatment of cognitive and behavioral symptoms, such as concussion, TBI, depression, headaches, PTSD and other debilitating conditions.

We know that each of our clients is unique, having individual histories and differing symptoms. We meet each client with an open mind and no preconceived notions. Each receives an individual evaluation to determine what treatment options will produce the desired outcome. Every client is given an individualized treatment plan. We integrate our plans with ongoing treatments from other healthcare providers. We have an extensive network of physicians and other healthcare professionals that we refer to and partner with to help you find relief from your symptoms.
Can we alleviate all symptoms in everyone? No, of course not, but people come from around the nation to be treated by the staff at BWB based mostly on the word of mouth from others we have successfully helped in the past and from our published research on concussion, TBI and Post-Traumatic Stress.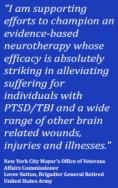 Brain Wellness and Biofeedback Staff
Mary Lee Esty, Ph.D., LCSW

Mary Lee Esty is the Founder of the Brain Wellness and Biofeedback Center. Dr. Esty has a Doctorate in Health Psychology, is a clinical social worker, and is recognized as an experienced clinician and researcher in applications of neurofeedback treatment for symptoms of concussion, TBI, and post-traumatic stress.
Dr. Esty is a Senior Fellow in Biofeedback and Neurofeedback with Biofeedback Certification International Alliance and is also a member of the Academy of Certified Social Workers. She is an award winning author and invited keynote speaker. Her research is published in several professional journals.
Diane Badger, BS, BCN-T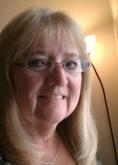 Diane Badger is a Senior Biofeedback Clinician at BWB. She has a Bachelor of Science in Computer Information Systems from University of Minnesota – Moorhead and has begun her Master's Degree in Mental Health Counseling. Ms. Badger came to BWB as the parent of a child with a brain injury. After witnessing first hand just how powerful EEG Neurotherapy treatment is and how it worked for her child when nothing else did, Diane decided to leave her IT career to focus on making EEG Neurofeedback and Brainwave Training available to more people.
Diane is Biofeedback Certification International Alliance certified as an EEG technician and offers Z-Score Neurofeedback and EEG Neurofeedback in both the Bethesda and Frederick offices.
Emily R. Perlman, MS, BCB, PC

Emily Perlman is licensed as a Professional Counselor in the State of Maryland and is a Senior Biofeedback Therapist with the Biofeedback Certification International Alliance as well as a Certified as a Stress Management Consultant. She has a Master's of Science from the University of North Carolina, and a Master's degree in Licensed Professional Counseling.
She began her 35-year career working in the field of mental health at Walter Reed Army Medical Center and at George Washington University. 16 years ago she incorporated biofeedback into her practice and is a highly qualified practitioner of Physiological biofeedback and neurotherapy. She was a principal neurofeedback therapist in the Rush Presbyterian-St Luke's Medical Center, Chicago fibromyalgia study.
Bonnie R. Sobel, RN, LCSW, BCD

Bonnie Sobel is a licensed Social Worker, Registered Nurse, and Board Certified Diplomat (BCD) in Clinical Social Work. She has attained certification in Biofeedback and Neurofeedback from the Biofeedback Certification International Alliance (BCIA). Ms. Sobel assists adults with a wide variety of mental health and stress management challenges utilizing individual, couples, and family psychotherapy, biofeedback and stress management education and training. She has been in private practice in Northern Virginia for over 20 years.
Juanita J. Pierre-Louis, MBA

Juanita J. Pierre-Louis is an EEG Biofeedback and Neurofeedback technician at Brain Wellness and Biofeedback (BWB). She has a Bachelor of Arts in Health Services Administration, and an MBA in Health Care Management. Mrs. Pierre-Louis is currently in the process of obtaining her Biofeedback Certification. She is passionate about the ongoing research and successful treatment of cognitive and behavioral symptoms.

Nolan Clark is an EEG Biofeedback technician at Brain Wellness and Biofeedback. He has a Bachelor of Arts in Psychology and is in the process of obtaining a Biofeedback Certification from the Biofeedback Certification International Alliance (BCIA). Mr. Clark is currently training to become an sEMG and HRV technician. It was BWB's "healing without drugs" approach that attracted him to the company.